Posted by

Cornerstone Insurance

on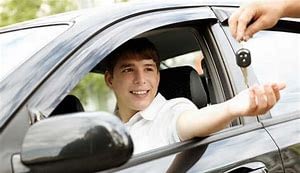 Your teenage will be driving soon…a milestone for both of you. You and your teen may be experiencing all kinds of emotions, ranging from excitement to concern. As a parent, this is a great time to proactively take steps to help minimize the risks when your teen starts operating a motor vehicle.
It takes plenty of patience and practice to become a safe driver. That's why it's smart to let your teen build up his or her driving skills slowly, with graduated levels of responsibility. It's also important to ensure your teen is assisted by an experienced driver and to set reasonable limits that help keep your teenager out of harm's way. In some cases, your state may require a specific learning process.
A learner's permit is a restricted license given to someone who is learning to drive but has not yet satisfied the requirements necessary to obtain a driver's license. To get a learner's permit, one must typically pass a written test about the rules of the road. Normally, one is required to have that learner's permit for a certain length of time before applying for a driver's license. (Driver's education, a practice log and a road test may also be required.)
In the U.S., the minimum age for receiving a learner's permit varies by state, usually ranging from 14 to 16. Normally, someone with a learner's permit may only drive with a person who has had a driver's license for several years. If the learner is a minor, he or she must have permission from his or her parent or guardian to obtain a permit. It's important to obtain the latest documentation on learner's permits from your state's Department of Motor Vehicles (DMV) because age requirements and laws differ from state to state. You can usually download DMV manuals from your state's website.
Our experience tells us that teenagers are more likely to have accidents than experienced drivers. A teen's lack of experience, risk-taking behavior and immaturity can make for a dangerous combination. That's why it's critical for you to have the proper insurance coverage and understand your deductibles. With Safeco's Teen Safety Rewards, you can be sure that keeping your teen safe is the best value.
Contact us today to see how we can help you get your new driver covered.
Filed Under: Blog
|
Tagged With: auto insurance, teen driver